Save for later
Aachi Chettinad Chicken Biriyani Masala 45g (Pack of 3)
We're sorry we're out of stock, but we can let you know as soon as this product becomes available again.
Enter your details below and we'll email you once this item is back in stock.
Overview
Aachi Chettinad Chicken Biriyani Masala is a specially crafted blend of aromatic spices that brings the authentic flavors of Chettinad cuisine to your kitchen. This 45g pack of biriyani masala is meticulously designed to provide you with the perfect combination of spices needed to create a flavorful and aromatic Chettinad-style chicken biriyani.
Chettinad cuisine, originating from the Chettinad region in Tamil Nadu, India, is known for its bold flavors and aromatic spices. Aachi captures the essence of this cuisine in their Chettinad Chicken Biriyani Masala. The carefully selected spices are expertly roasted and ground to perfection, ensuring that every bite of your biriyani is bursting with authentic Chettinad flavors.
The masala blend consists of a variety of premium quality spices, including coriander, cumin, fennel seeds, black pepper, cloves, cinnamon, star anise, cardamom, and bay leaves. Each spice is carefully measured and blended in precise proportions to create a well-balanced and flavorful masala mix. This unique blend infuses your chicken biriyani with the distinct spicy and aromatic notes that are characteristic of Chettinad cuisine.
Using Aachi Chettinad Chicken Biriyani Masala is simple and convenient. Marinate your chicken with the masala, along with other ingredients like yogurt and lemon juice, to create a flavorful and tender chicken base. Cook it with fragrant basmati rice and layers of caramelized onions and fresh herbs to complete the biriyani. The result is a mouthwatering dish that is sure to impress your family and guests.
The 45g pack of Aachi Chettinad Chicken Biriyani Masala is compact and travel-friendly, making it an ideal choice for outdoor cooking or when you're on the go. The pack is sealed to preserve the freshness and aroma of the spices, ensuring that you get the authentic taste of Chettinad biriyani with every use.
Recommend to a friend
---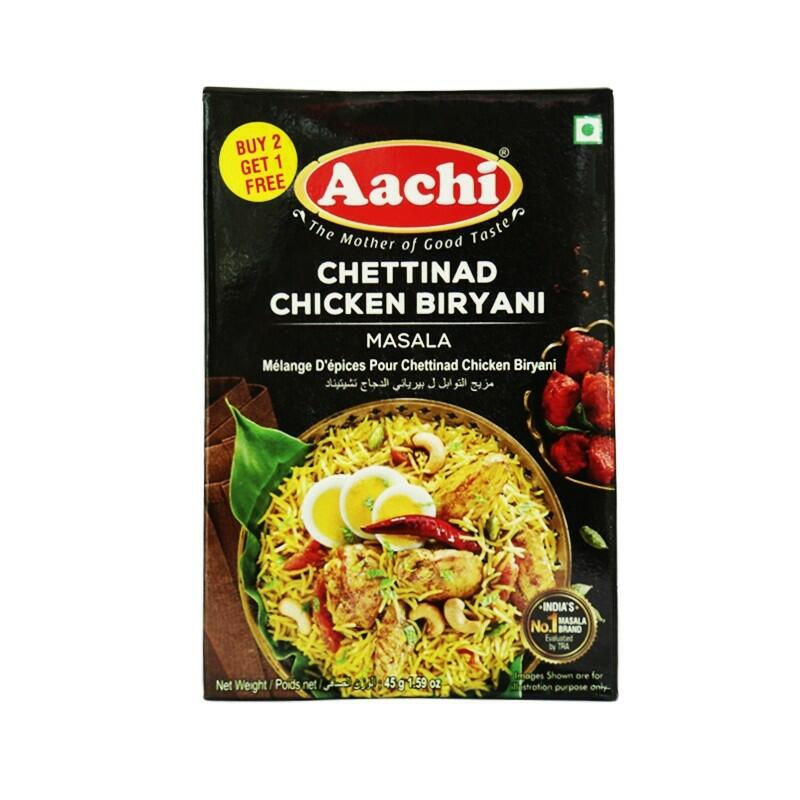 Aachi Chettinad Chicken Biriyani Masala 45g (Pack of 3)
Link: https://www.goodofood.com/aachi-chettinad-chicken-biriyani-masala-45g-pack-of-3
---
Reviews
Be the first to review this product.
Leave a review