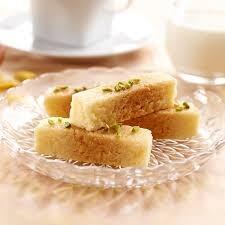 Milk Cake- A rich, delicious Indian Sweet perfect for Any Celebration.
Experience the authentic flavors of Haldiram Milk Cake, a traditional mithai that encapsulates the essence of Indian sweets. Each bite of this delectable treat is a journey into the world of rich flavors and delightful textures.
Savor the unmistakable taste of Milk Cake, skillfully prepared to perfection. These mouthwatering sweets are a testament to the art of Indian confections, each piece a flavorful masterpiece that embodies the essence of cultural celebrations.
Elevate your sweet moments with Haldiram Milk Cake, a premium-quality delight that resonates with the warmth of traditional Indian sweets. Whether you're enjoying them during festivities or savoring them as a special indulgence, our Milk Cake promises to be a delightful experience for your taste buds.