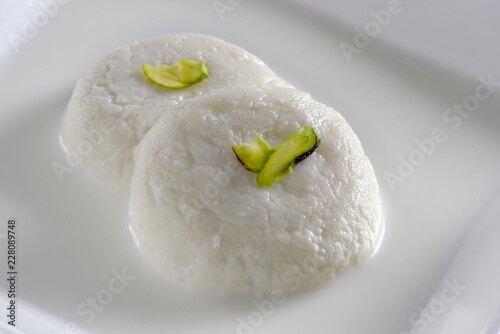 Rasmalai- The Creamy and Dreamy Dessert that Melts In Your Mouth!
Rasmalai is a popular and delectable dessert originating from the Indian subcontinent, particularly associated with the cuisine of Bengal. This sweet dish is a variation of the traditional Rasgulla, but with a unique twist. The name "Rasmalai" is derived from two Hindi words: "Ras," meaning juice, and "Malai," meaning cream or milk.
Rasmalai primarily consists of two main components - the soft and spongy cheese dumplings and the rich, creamy milk syrup. The dumplings are made from chhena (Indian cottage cheese) and soaked in a flavored milk syrup.
Haldiram's Rasmalai is the perfect choice for desi desserts after a family dinner. Soft, flavourful and rich Rasmalais are every desi heart's desire. Now with Haldiram's Rasmalai you can enjoy your favourite Indian sweet whenever you desire. Serve this delicacy at parties or even on festive occasions to impress your guests
Serving:
Rasmalai is typically served chilled, and each dumpling is a delightful combination of soft, spongy texture and a burst of sweet, milky flavor. It is often garnished with additional chopped nuts, saffron strands, or edible silver leaf for an extra touch of elegance.
This exquisite dessert is enjoyed during festive occasions, celebrations, and as a sweet treat to conclude a delicious Indian meal. The blend of creamy milk syrup and delicate chhena dumplings makes Rasmalai a favorite among those with a sweet tooth and a love for traditional Indian desserts.