Save for later
Mehran Sindhi Biryani Masala 100g
We're sorry we're out of stock, but we can let you know as soon as this product becomes available again.
Enter your details below and we'll email you once this item is back in stock.
Overview
An exotic Sindhi Pakistani biryani or pulao can be made with Mehran Sindhi Biryani Masala, a spice mixture. It has a robust flavour and taste that contribute to the creation of genuine Biryani.
Popular in Pakistan, this distinctive and fragrant variety of sindhi biryani is renowned for its hot flavour, fragrant rice, and tender meat. It is prepared with meat, veggies, a variety of spices, and Basmati rice.
Recipe : Fry Ginger & Garlic Paste for a short while in the same oil. Cover the pan and simmer the meat and tomatoes until the tomatoes are tender. Fry for 5 minutes after adding the Mehran Sindhi Biryani Masala, fried onions, yoghurt, green chilies, potatoes, mint leaves, and 1/2 cup green coriander. Then, add 12 glass of water, cover the pan, and boil over low heat for 12 cup of gravy and until the meat is cooked. (Add two to three glasses of water to beef or mutton.) Lemon and 1/2 cup green coriander should be added. Set away.
Lay four layers of the prepared masala on the half-cooked rice. For 10 to 15 minutes, cook the rice, covered, on low heat, until it is finished. Before serving, stir.
Ingredients: Salt, Red Chilli, Plum, Cumin, Cinnamon, Coriander, Big Cardamom, Onion, Turmeric, Sugar, Mango Powder, Black Pepper, Clove, Green Cardamom, Acid (Citric Acid), Paprika, Ginger, Garlic, Artificial Biryani Flavouring, Anti Caking Agent (Silicon Dioxide)
Recommend to a friend
---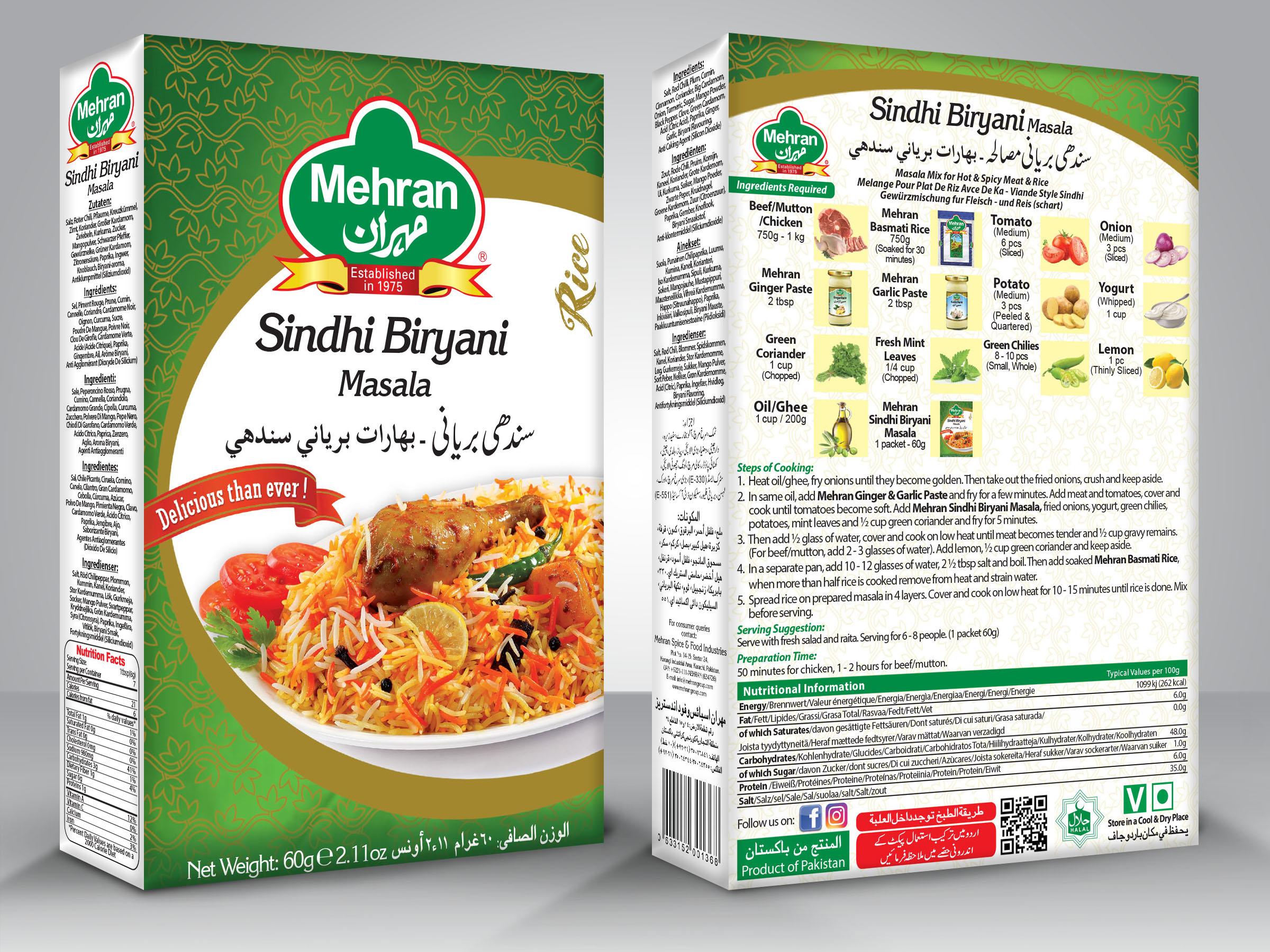 Mehran Sindhi Biryani Masala 100g
Link: https://www.goodofood.com/sindhi-biryani-masala-100g
---